In this Must Know…
Take Action: Three State Bills for Micro
Now is crunch time for the state legislature. All bills must be passed by August 31. We need you now to weigh in and call your legislators to advocate for several bills that we've been supporting all year. It's easy, just dial and talk to the person who answers the phone. They won't ask any questions, just register your support. Receiving lots of calls is influential on their votes.
Find your California state representatives. Here's what to support and a script that you can literally read (but don't have to if you're more comfortable putting it in your own words.) Take 15 minutes out on Friday and make some calls.
SB 1235 (Glazer) – for more information see last week's Must Know. The vote will first be in the Assembly probably on Monday or Tuesday, then the Senate later in the week. Script:
Hello, my name is [X]. I'm calling you to ask Assemblymember [X] to support SB 1235.
SB 1235 would become the first small business truth in lending law in the country.
It would protect California's small businesses and economy, support responsible industry innovation, and set the standard for the rest of the country to follow.
[I/our organization], along with a statewide coalition of partners, supports SB 1235 because it would give small business owners the information they need to understand their financing options.
We are very pleased to be able to come out strongly in support of this bill.
SB 946 (Lara) – a bill that would decriminalize sidewalk vending statewide and empower local governments to set parameters for safe, regulated vending. The vote will first be in the Assembly any day. Script:
Hello, my name is [X]. I'm calling you to ask Assemblymember [X] to support SB 946, a bill that would decriminalize sidewalk vending statewide and empower local governments to set parameters for safe, regulated vending.
This bill supports sidewalk vendors, many of whom are low-income immigrants (and primarily women) who use vending as a way to provide for their families. Ending criminal penalties and creating a pathway to economic opportunity will support tens of thousands of immigrants, workers, and their families across California.
Street vending offers various benefits to local jurisdictions, including providing fresh fruits and vegetables, activating corridors, and providing more "eyes on the street".
[I/our organization], along with a statewide coalition of partners, supports SB 946 because it allows hardworking entrepreneurs to vend safely, benefitting both vendors and the public.
We are counting on Assemblymember [X] to do the right thing for California's sidewalk vendors. We urge an aye vote when SB 946 goes to the Assembly floor. Thank you!
AB 626 (Garcia) – 2018 Homemade Food Operations Act would allow the kitchen cottage laws to extend to home cooked meals. This bill will be voted on by the Senate first and then need to go back to the Assembly next week.
Hello, my name is [X]. I'm calling you to ask Senator[X] to support AB 626, a bill that would allow microenterprise home kitchens to sell up to $50,000 per year.
It would also ensure health and safety standards by getting an inspection and registering with the local enforcement agency and follow a set of standards just like any other food facility.
Please support AB 626.
Is California Small Business Friendly?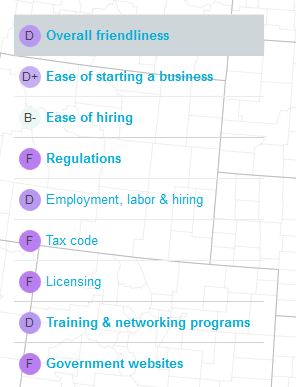 Thumbtack, the website and app that finds you local professionals (pros) for any project, released its 2018 Small Business Friendliness Survey, ranking all 50 states and 57 cities based on factors including licensing requirements, tax regulations, and labor and hiring regulations. It's the largest continuous study of small business perceptions of local government policy in the country.
So how did California and its major cities do? Not so great, and that's being nice. California received an overall 'D' grade from Thumbtack's pros. The only grade that was above average was ease of hiring. And four of California's cities were bottom ten: San Francisco, Anaheim, San Diego and Riverside. I would dare to speculate that most of the business owners surveyed do not know about the riches of business assistance available in those cities. Hmmm, I think CAMEO and Thumbtack might need to work together to remedy that.
Retirement Plan for Californians
California's workers deserve to retire with dignity. As a result of state law, all employers with five or more employees will soon need to offer a retirement savings plan or provide access to CalSavers, the state's new retirement savings program for private sector workers. CalSavers helps business owners ensure the financial security of their employees — with no employer fees and minimal effort. For employees, CalSavers makes saving for retirement easy – it automatically comes out of their paycheck before they get a chance to spend it. It's like paying your future self first.
Download a CalSavers brochure that you can distribute to your clients.
You can also watch a new CalSavers promotional video called "CalSavers Overview."
The Goodies
New opportunities for training, conference information, funding, scholarships, and other information that have crossed our desks since the last Must Know. I have posted a running tab of current Industry Goodies on the CAMEO website that lists items that were in past emails. Check it out to make sure you're not missing anything, like grants whose deadlines are still alive!
CAMEO Resource: We gathered a panel of disaster program experts and CAMEO members that have had to respond to "Declared Disasters" and have experience delivering the appropriate services to their clients that have been affected. Listen to the webinar.
New Report: Emergent Research released "MBO Partners State of Independence in America," a study which offers insights into the growth of the independent workforce.
Partner Resource: The California Reinvestment Coalition has released a guide for banks on how to better serve immigrant communities.
For Your Clients: Greenlining invites you to take the 2018 Survey of U.S. Latino Business Owners. Every year, the Stanford Latino Entrepreneurship Initiative (SLEI) surveys thousands of Latino business owners across the country to measure the critical impact Latino entrepreneurs have on the U.S. economy. Let your clients know that if they fill out a survey, they will have a chance to win a $50 Amazon gift card (for completed surveys).
New Resource: Credit Builders Alliance released Achieving Credit Strength: A Toolkit for Supporting Returning Citizen Entrepreneurs.
For Your Clients: Small Business Majority is hosting a webinar series discussing workforce and healthcare laws and programs that offer a competitive advantage for small businesses and help retain and attract employees. Register for "California Workplace Benefits Webinar: Healthy Employees, Healthy Bottom Line" on August 28, 2018, 10:00-11:00 am.
For Your (Young) Clients: BizWorld is hosting the Girlpreneur competition during the WorldWideWomen Girls' Festival at Santa Clara University on Sunday, October 6, 2018. They are inviting girls ages 8-18 to apply to pitch their business ideas to our panel of expert judges and compete for the Grand Prize of $1,000! The application deadline is September 2, 2018.
For Your Clients: SCORE and Home Shopping Network (HSN) have partnered up to search for new consumer products to be introduced to HSN's audience of 96 million households! Encourage your clients who focus on consumer products to submit their product offering for evaluation. The Northern California program begins with a free Informational Event, to be held at West Valley College, Saratoga on September 15, 2018, with the actual product pitches in mid-November. To learn more about this opportunity, download a Score Your Dream Flyer.
Professional Development: Opportunity Finance Network will hold Executive Training for CDFI Board Members on Thursday, September 27, 2018, in Jacksonville, FL. This is an executive-level course designed to strengthen high-performing CDFI board leadership.
Professional Conference: The 34th OFN Conference – "CDFIs: Agents of Change" – takes place October 8-11, 2018 at the Marriott Marquis Chicago.
For Your Clients: The U.S. Small Business Administration is now accepting nominations for its 2019 National Small Business Week Awards, including the annual Small Business Person of the Year. The deadline is January 9, 2019.